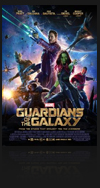 Guardians of the Galaxy

Nationwide - Exhibiting a frisky sense of humor and a poppy mischievousness without losing sight of its sometimes quite sensitive heart underneath, the film plays more like a winky-faced space opus than conventional superhero fare. Of all of Marvel's many Phase I and Phase II projects, "Guardians of the Galaxy" is, to date, the most alive with imagination and wonder.

Featured Blu-ray Review:
Curtains
(1983)
(Release Date: July 29, 2014) – For too many years this underrated gem has been relegated to video store dustbins as just another half-forgotten relic of the early '80s saddled with a piss-poor transfer, but now, on this lovely disc, devoted fans and new viewers alike will be able to see just why this creepy, stylish, one-of-a-kind horror-thriller is worth (re)discovering and holding in high regard. Packed with quality special features on top of an already awe-inspiring A/V presentation, Synapse Films' "Curtains" Blu-ray should be an essential addition to everyone's collection. A MUST-OWN.
Boyhood

Select Cities - It is nothing short of stunning to watch "Boyhood" unfold. Richard Linklater's magnum opus offers more than what one has any right to expect from a film while simultaneously illuminating the incalculably infinite boundaries to which cinema is capable of going.

Magic in the Moonlight

Select Cities - An inconsequential confection, done in by a rambling, featherweight narrative and the unavoidable miscasting of 53-year-old Colin Firth opposite 25-year-old love interest Emma Stone. With "Magic in the Moonlight," Woody Allen appears to have made a movie just to make one, bringing to it little of the passion, urgency and inspiration that separates his superior efforts from his second-rate fillers.

New on DustinPutman.com:

Featured Blu-ray Releases
The latest Blu-ray reviews include: "Curtains," "All Cheerleaders Die," "The Angriest Man in Brooklyn," "Under the Skin," "SX_Tape," "Lake Placid," "Stage Fright," "Rigor Mortis," "The Final Terror" and "Wolf Creek 2."
Published Theatrical Reviews:
2,670

Dustin & his movie review
website were named a
"Hot Site" by USA Today!
This website is dedicated to the memory of Rhudel Putman II.